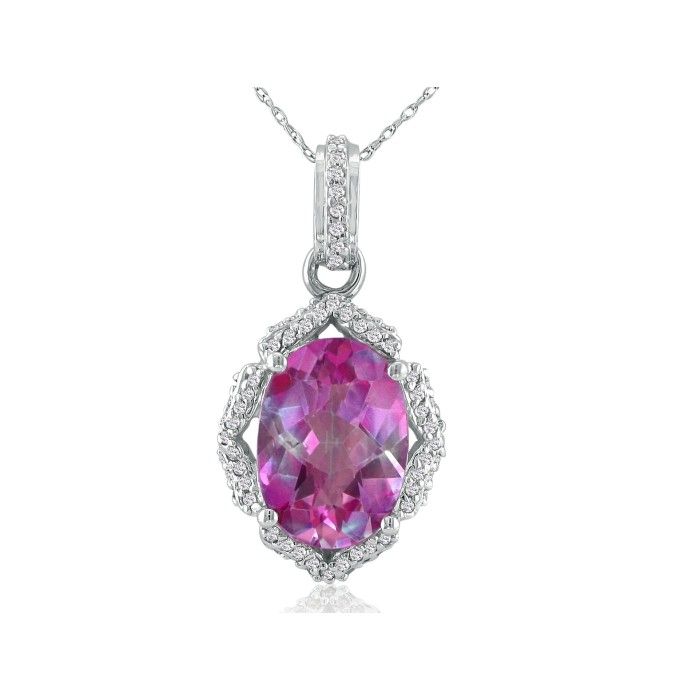 Most women in the world just love diamonds because of its versatility. Diamond are fabulous when used in intricate jewelry designs. Diamonds oozes class & elegance because of their mystical appearance. On the other hand, Gemstones, when used in jewelry adds a dash of sparkle to them with their colorful look & makes your jewelry lavish & luxurious.
When used together in jewelry, diamonds & gemstones can do wonders. They brings out the look in the jewelry that is both classic & festive. In these type of jewelry, diamond can be the center stone with sparkling little gemstones surrounding it or vice-versa.
We are, here, presenting the Pink Topaz Diamond Pendant Necklace. The pendant necklace features an enormous Pink Topaz in 6 1/2ct with over 100 of shimmering diamonds surrounding it in a very unique & stylish way. The 7 ct diamond quality is excellent and has I2 in clarity & I/J in color and is crafted in 14 K White gold making it fashion statement. This mind-blowing pendant comes with a 18-inch chain. It has a lifetime-guarantee and comes with 60 day worry-free return.
Make yourself sparkle with this bright & fresh look Pink Topaz diamond pendant necklace.