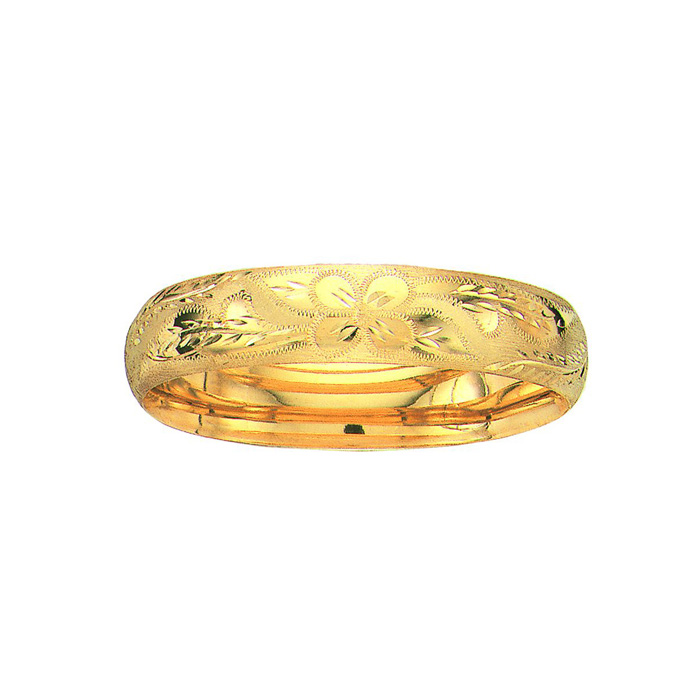 Gold has been a part of jewelry making since centuries & it has been a tradition since then which is being followed till now. Jewelry is an important part of our attire since it gives a finishing touch to our overall look & personality. Gold is the most preferable metal used in jewelry making since the time when humans first started adorning them. Gold jewelry is the oldest & the most classiest of all. It is a piece of jewelry that every women wishes to have in her jewelry collection. Given the return value or considering the fact that gold is good for investment, it has always been the most popular metal for jewelry.

At Diamond District Block, we offer a splendid variety of fashion statements in form of Gold Bracelets. Gold Bracelets are loved by every women and are the most quintessential jewelry of its class.
We present to you the stunning & supreme Florentine Round Dome Classic Bangle Bracelet. The best part of this jewelry is that it is filled with perfection when it comes to elegance. The graceful Gold Bracelet is crafted in 14 K Yellow Gold (20.5g) and is 8 inches long & 13.5mm wide. It has a secure, hidden-safety clasp. Moreover, it comes with 60 day worry-free return & lifetime guarantee.
Visit Diamond District Block & explore the beautiful Gold Bracelet with the intricate design. Order now!